Magic Mushroom Burger
Credits: Thank you to my good friend and colleague, culinary dietitian Regina Ragone, for this recipe and her story.
If you're like me and can't resist a good burger you'll understand why, after your first bite, I think this one is magical. I recently learned a technique to make burgers juicier and more flavorful while dialing up the health benefits! What's the secret? The simple addition of diced mushroom, whose taste and texture works really well with meat. Mushrooms have a natural umami—a savory bold and flavorful fifth taste—that amplifies flavor so much you can use much less salt. Added benefit is an extra serving of vegetables with B-vitamins and immune supportive selenium.
Prep Time: 15 minutes
Cook Time: 10-15 minutes
4 servings
Ingredients:
1/2 pound crimini or white button mushroom
2 tablespoons olive oil, divided
1 lb lean ground beef
1/4 cup tomato paste
1 teaspoon dried basil (crumble between fingers to release flavor)
1/2 teaspoon salt
4 buns if desired
shredded part-skim mozzarella, if desired
Finely dice mushrooms or gently pulse in food processor
Heat 1 tablespoon olive oil in skillet on medium-high heat. Add mushrooms and saute 5-7 minutes until golden brown. Remove from heat and cool 5 minutes.
Add beef, tomato paste, basil, salt and cooled mushroom together and mix until combined.
Make 4 patties (can make 6 smaller ones also). Add remaining tablespoon olive oil to skillet and cook burger patties on medium-high 5 minutes on each side or until desired doneness is reached (160° on an instant read thermometer is the safest).
Place on a salad, 1/2 bun or full bun and top with mozzarella if desired depending on your lifestyle, workouts, activity level, etc..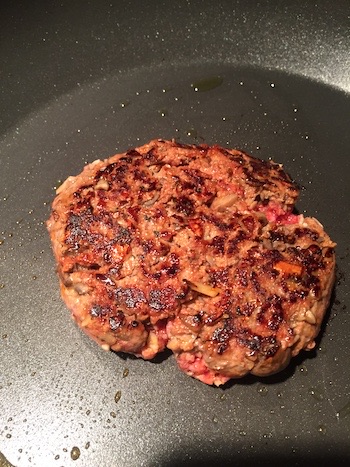 Subscribe to our newsletter so you never miss a single podcast episode.
Plus get our latest content by email.
We hate SPAM. We will never sell your information, for any reason.